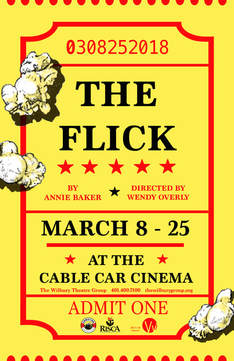 ABOUT THE FLICK
In a run-down movie theater in central Massachusetts, three underpaid employees mop the floors and attend to one of the last 35 millimeter film projectors in the state. Their tiny battles and not-so-tiny heartbreaks play out in the empty aisles, becoming more gripping than the lackluster, second-run movies on screen. Presented in a site-specific production by The Wilbury Group at the
Cable Car Cinema
in downtown Providence,
The Flick
is a hilarious and heart-rending cry for authenticity in a fast-changing world.

​
"CRITIC'S PICK. Hilarious and touching... Annie Baker, one of the freshest and most talented dramatists to emerge Off Broadway in the past decade, writes with tenderness and keen insight. Her writing is a great blessing to performers: The Flick draws out nakedly truthful and unadorned acting. This lovingly observed play will sink deep into your consciousness." --
The New York Times
"Funny, heartbreaking, sly, and unblinking. The Flick may be the best argument anyone has yet made for the continued necessity, and profound uniqueness, of theater." --
New York Magazine
"Exhilarating...Utterly in tune at every moment." --
Village Voice​


​
---
TICKETS FOR THE FLICK ON SALE NOW
SAVE ON TICKETS TO OUR 2017/18 SEASON WITH A SEASON MEMBERSHIP. LEARN MORE.