Mr. Burns, a post-electric play

By

Anne Washburn

, directed by

Brien Lang


​


MARCH 16-APRIL 1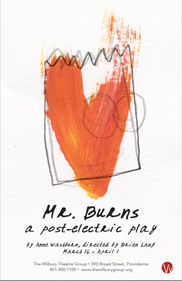 After the collapse of civilization, a group of survivors share a campfire and begin to piece together the plot of "The Simpsons" episode "Cape Feare" entirely from memory. 7 years later, this and other snippets of pop culture have become the live entertainment of a post-apocalyptic society, sincerely trying to hold onto its past. 75 years later, these are the myths and legends from which new forms of performance are created. A paean to live theater, and the resilience of Bart Simpson through the ages,
Mr. Burns
is an animated exploration of how the pop culture of one era might evolve into the mythology of another.

​
REVIEWS
"
Mr. Burns
is a collection of sensations and delights that will leave you reeling and eager for more.
...
The Wilbury Theatre Group are masters of the strange and unexpected, and even if the audience can't completely grasp what's going on, the cast has everything handled, so that it's best to just sit in their thrall and trust that we're all going to make it out ok." ​-Broadway World
​"A must-see...Whether you like The Simpsons or not, be sure to see The Wilbury Group's production of Anne Wasburn's Mr. Burns, a post-electric play
....not to spoil it, but the third act is a transcendently fantastic pop funhouse mirror.
Don't miss this one.
" -
​Law and Order Party
"Director Brien Lang creates a successful production partly by enthusiastically committing to what the weird, sprawling script requires...and
the final moments of the play bear out the goal of honoring the new civilization's founding myth and making something "amazing" as a collective. In a word …excellent." -Motif Magazine

"Bizarre and thought-provoking...
Those familiar with the Simpsons, and especially that particular episode, will certainly have an advantage over those of us who have not followed the pop culture phenomena. While I was completely lost at times, I did marvel in the cleverness and subtleties of the dialogue and appreciated the hard work and energy of the ensemble cast." -Cranston Herald/Warwick Beacon
---
PHOTOS FROM MR. BURNS, A POST-ELECTRIC PLAY
CAST

CREATIVE TEAM

Written by

Anne Washburn

Music by

Michael Friedman

Directed by

Brien Lang​

Costume Design by

Meg Donnelly

Light & Sound Design by

​Andy Russ

Set Design by

Luke Sutherland

Music Direction by

David Tessier

Stage Management by

Logan Serabian