---
---
---
---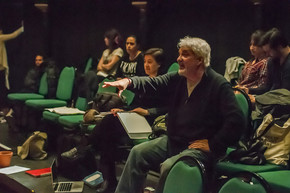 PREVIEW: CABARET BY THE WILBURY THEATRE GROUP in RI Monthly
"
One of the newer additions to the thriving Providence theater scene, the Wilbury Group has quickly made a name for itself as a team of artists dedicated to the cutting edge. Founded in 2010 and situated in the nooks and crannies turned performance spaces of the Southside Cultural Center, they defy all expectations...
When I ask Tom Gleadow, director of the group's upcoming production of
Cabaret
, the iconic Broadway musical, how he plans to bring that Wilbury edge to a show that's been done to death, he laughs. When he took on the project, he says, he'd given a lot of thought to that question himself." Read more.
---
---
CAST & CREW
CABARET Book by Joe Masteroff, Lyrics by Fred Ebb, Music by John Kander
Directed by Tom Gleadow
Choreography by Shura Baryshnikov

Emcee, Jo-án Peralta
Cliff, Joshua Andrews
Sally Bowles, Katie Travers
Ludwig Ernst, Brien Lang
Fraulein Kost, Rachel Dulude
Fraulein Schneider, Maria Day-Hyde
Herr Schultz, Roger Lemelin
Kit-Kat Girls, Beth Alianello, Sarah Leach, Jamie Perkins, Christine Treglia, Patrick Saunders, Annalee Carvalho
Male Ensemble, Seth Finkle, Jonathan Olivera, Rico Lanni

Katryne Hecht, Set Design
Kerry Callery, Sound Design
Dan Fisher, Light Design
Sylvi Re, Costume Design
Alex Maynard, Stage Manager

Pianist, Katie Cohen; Percussionist, Tom Grace; Assistant Director, Allie Meek; Production Manager, Seth Finkle; Production Photography, Brian Gagnon.


Thursday, May 15 13 7:30pm preview
Friday, May 16 7:30pm preview
Saturday, May 17 7:30pm preview
Sunday, May 18 7:30pm PWYC
Monday, May 19 7:30pm press/opening
Thursday, May 22 7:30pm
Friday, May 23 7:30pm
Saturday, May 24 7:30pm
Thursday, May 29 7:30pm
Friday, May 30 7:30pm
Saturday, May 31 7:30pm
Thursday, June 5 7:30pm
Friday, June 6 7:30pm
Saturday, June 7 7:30pm
...

*POST-SHOW TALKBACK SCHEDULED, DETAILS BELOW
---
POst-Show talkbacks
Following select performances of Cabaret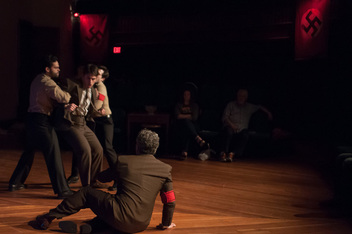 Thursday, May 22nd-The Holocaust Today
A June 2009, shooting outside the US Holocaust Museum in Washington, DC Recent shootings outside a Kansas CityJewish Community Center, Ukrainian Jews being told they need to register and a 2013 you tube video making its way around the internet showing Pennsylvania college students are not sure what the Holocaust is. These are just a few examples of examples of why Holocaust education is so important in this day and age. Please join us for a special discussion with Rabbi Barry Dolinger from temple Beth Sholom in Providence as we talk with you about the issues surrounding this topic. Please come with YOUR questions and concerns.

Thursday, May 29th-The Refugee Experience
We all know that immigration boomed in the early 1900's. What about today's immigrants? What are their stories? Why did they decide to come to the US? Was it hard for them to get here and how have they settled? Please join Yvonne Towah as she tells us her story about emigrating to the US from the Ivory Coast and how her life changed once she came to Rhode Island.

Thursday, June 5th-How did she survive?
We all know the Holocaust was a horrific time for many people. We have all heard inspiring stories of people survived. These stories need to be told and we need to remember. Never Again is the slogan for Holocaust Remembrance Day. Join us as we hear one of these stories. Alice Goldstein joins us in conversation to talk about she escaped Germany and the Nazis in 1939.
---
---